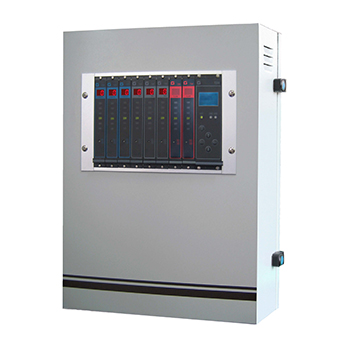 Description
The T200 gas monitor (wall mounted) is a microprocessor based intelligent controller with outstanding performance and complete alarm function. The T200, together with our combustible gas , toxic gas and flame detectors like GT-CT8900, Ultra IR800 ,GQ-CE8900 and Ultra FL800, etc., can form a fire or gas detection & alarm system to continuously monitor leakage of combustible or toxic gases in the environment and to prevent fires.
The T200 monitor consists of a wall-mounted chassis (including the register card) and control cards. The control card can supply power to the detector and receive the signal that is proportional to the gas concentration from the detector. The control card has a LED that will digitally display concentrations of target gases. It also outputs audible & visual and contact alarm signals when concentrations exceed the set point. The control card also has a 4-20mA analog signal output that is related to the field concentration and then the register card shall output relevant RS485 signals.
The T200 gas monitor features a multichannel and plug-in structure. Both 8-channel and 16-channel(loop) models are available.
Features
• The register card employs a microprocessor-based technique and an easy-to-operate human-machine interface;
• Real-time display alarm & fault channel;
• Complete alarm function, both warning set point A1 and alarm set point A2 can be set independently;
• Besides two contacts output of concentration and fault & alarm, another set of common alarm contact output is also available;
• Features a 4~20mA analog signal output that is in relevant to the field gas concentration;
• Features alarm log and fault log functions;
• Features a RS485(Modbus)output.